If you or someone you love has been diagnosed with mesothelioma, help and support is available at Bailey & Glasser, LLP. We are a team of experienced asbestos and mesothelioma attorneys who can guide you through the process of filing a claim or lawsuit in pursuit of financial compensation for mesothelioma.
We understand what you're going through and know how devastating this diagnosis is for patients and their families. Our mesothelioma lawyers provide compassionate, personalized and aggressive legal representation in West Virginia to help our clients secure their financial futures.
How Can an Asbestos Attorney Help You?
A mesothelioma attorney in West Virginia can strengthen your lawsuit and make the overall legal process easier. You can trust your lawyer to navigate the laws and rules regarding asbestos lawsuits in West Virginia while you focus on your future and spend time with your family. A law firm with experience in asbestos and mesothelioma litigation has the personnel and legal resources to quickly, efficiently and correctly file the paperwork to initiate your claim. A law firm can also preserve evidence and hire experts to strengthen your case.
Notable Case Results
Our legal team boasts a track record of over 3,000 cases effectively managed, resulting in a remarkable recovery exceeding $2 billion in settlements and verdicts solely in relation to asbestos-related matters. Noteworthy achievements encompass:
Securing a substantial $50 million verdict in favor of a mesothelioma victim, a steel mill worker whose asbestos exposure contributed to his unfortunate demise.
Accomplishing settlements surpassing $20.8 million for workers who encountered asbestos in their workplaces and subsequently battled mesothelioma.
Negotiating settlements totaling over $22 million for workers, a considerable number of whom were smokers, whose asbestos exposure was linked to fatal lung cancer.
Achieving settlements exceeding $1 million for workers afflicted with asbestosis, a non-malignant lung scarring condition stemming from asbestos exposure.
Navigate This Page
Seeking Compensation for Mesothelioma in West Virginia
If you were diagnosed with mesothelioma after being exposed to asbestos at home, in the workplace, in a public building or because of a consumer product, you have legal options and may be entitled to financial compensation from the at-fault party. Bringing a claim or lawsuit against one or more parties for exposing you to asbestos could result in financial compensation to help offset the cost of medical bills, lost wages, pain and suffering, and other losses associated with mesothelioma.
Mesothelioma victims can seek compensation through traditional methods, such as filing a lawsuit or filing claims. Most mesothelioma lawsuits are resolved with settlements. A settlement is an amount of money agreed upon by both parties to resolve a legal dispute. Settlements are often achieved before the filing of a lawsuit or to stop one from progressing. If a mesothelioma lawsuit goes to trial, it could end in a jury verdict that orders the defendant to pay the plaintiff.
There are also nontraditional outlets of financial recovery for mesothelioma victims. You may be able to recover through an asbestos trust fund, for example, which is a fund set up by a company to ensure that asbestos exposure victims can be paid even if the company goes bankrupt. Other options may include a workers' compensation claim or veterans' claim, depending on your situation.
Who Is Liable for a Case of Mesothelioma?
Preventing mesothelioma is possible by avoiding exposure to asbestos. It is often the responsibility of employers, manufacturing companies and property owners to prevent others from being harmfully exposed to asbestos. During construction and renovation projects involving older buildings, for example, supervisors must adhere to federal and state asbestos abatement laws to protect the public.
In West Virginia, the Division of Air Quality enforces federal asbestos laws. These include rules for how to identify, contain, abate and remove asbestos-containing materials safely. In addition, employers must obey asbestos rules under the Occupational Safety and Health Administration, such as by providing employees with personal protective equipment (PPE) to prevent asbestos exposure.
About Mesothelioma
Mesothelioma is a terminal illness that is caused by exposure to asbestos. Asbestos is a group of six minerals that are small, thin and fibrous in appearance. They are not typically visible to the naked eye. In 1987, the International Agency for Research on Cancer confirmed that all six types of asbestos are carcinogenic, meaning they can cause cancer. For decades prior to this confirmation, asbestos was widely used for manufacturing and building purposes due to its fire-resistant properties.
Asbestos causes mesothelioma when the fibers become lodged in the inner tissues of the body – namely, the protective membrane that lines the internal organs known as the mesothelium. Over the course of many years, these fibers cause irritation, inflammation and a buildup of scar tissue in the affected area. Eventually, this can lead to the formation of cancerous tumors. The latency period between the date of asbestos exposure and the development of malignant mesothelioma ranges from 20-60+ years.
How Common Is Mesothelioma in West Virginia?
Mesothelioma is a relatively rare type of cancer. According to data from the Centers for Disease Control and Prevention, West Virginia reported 148 new cases of mesothelioma from 2015 to 2019. This places the average number of new cases at around 30 per year. West Virginia had an age-adjusted rate of new mesothelioma cases of 1.2 per 100,000 people (95 percent confidence interval: 1-1.4).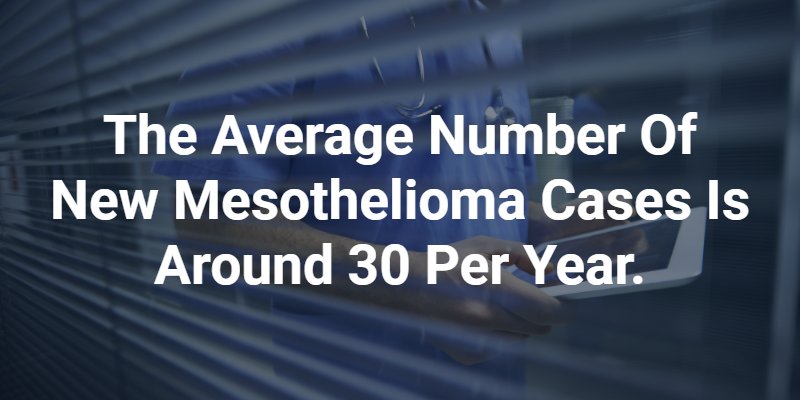 A total of 114 people died of mesothelioma cancer in West Virginia over the five-year study period. The only county in West Virginia with high enough numbers to be reported was Kanawha County. It had a new mesothelioma case count of 23 from 2015 to 2019, with an age-adjusted case rate of 1.6 per 100,000 people and a population of 917,214.
Asbestos Exposure Risks in West Virginia
Asbestos is most often found in older buildings and materials, such as in residences and office buildings that were constructed prior to the 1980s. Asbestos may be present in construction materials and consumer goods from before it became regulated under federal law in the United States.
Some of the most common places to find asbestos in West Virginia are:
Wall and attic insulation
Vinyl floor and ceiling tiles
Spray-on insulation products
Cement and mortar
Fire-proofing materials
Roofing shingles
Textured paints
Glues and adhesives
Drywall and plaster
Shipbuilding supplies
Automotive parts, including brakes and clutches
The National Cancer Institute states that while evidence suggests there is no safe level of asbestos exposure, workers in occupations that put them in frequent contact with asbestos are the most at risk of developing mesothelioma. Workers in fields such as construction, demolition, automobile repair, HVAC and firefighting may be the most at risk of exposure to asbestos on the job.
Client Testimonial
"My husband Jim, he worked in a chemical plant… ended up with the flu and that turned into a diagnosis of cancer… My favorite part about working with Mickey was you knew he was confident in his job. When you have somebody that's confident, that makes you more confident. Mickey was really good for us, he worked hard for us. Mickey's a fighter, he doesn't give up."
Contact a West Virginia Mesothelioma Attorney for Help
No amount of money can make up for a diagnosis as devastating as malignant mesothelioma. However, at Bailey & Glasser, LLP, our West Virginia asbestos attorneys have seen first-hand how financial compensation can help a family that is struggling to pay for treatments and medical care. Compensation can give your family greater peace of mind by reducing financial stress. A lawsuit can also bring you a measure of justice by holding the party at fault for your mesothelioma accountable.
Charleston Office:
Morgantown Office:
For more information about bringing a mesothelioma claim or lawsuit in West Virginia, contact us at (877) 852-0342. We have offices located in Charleston and Morgantown.