Your life changes forever after a mesothelioma diagnosis. At Bailey & Glasser, LLP, we know how devastating this diagnosis is for patients and their families. It is our mission to make things as easy as possible during this difficult time in the pursuit of answers, justice, accountability and financial compensation.
While no amount of money can make up for the grief and emotional toll of a mesothelioma diagnosis, we hope that it can ease your financial burden so that you can focus on your family and future. Our Pennsylvania mesothelioma attorneys can help you file a lawsuit, pursue a claim and take other legal action to fight for fair financial compensation.
We have two conveniently located law offices in Pennsylvania with experienced asbestos attorneys who are ready to help: Philadelphia and Pittsburgh. Call (877) 852-0342 to learn more by scheduling a case consultation with an attorney.
Navigate This Page
Why Choose Us?
We have years of experience and a track record of success. Our asbestos and mesothelioma attorneys have obtained over $90 million in settlements and jury verdicts for past clients.
Our attorneys have the experience and knowledge to handle any situation. We can take on any defendant, big or small, and overcome any challenges that come our way.
We will work toward achieving the best possible outcome for your case using proven legal strategies. We aren't afraid to go to trial, if necessary, for maximum compensation.
Your lawyer will stand by your side throughout the legal process. We are your advocates; we will be here to answer your questions and make sure you have everything you need.
Our Experience With Mesothelioma Claims
At Bailey & Glasser, LLP, we have a highly experienced Asbestos and Lung Disease Team with attorneys who have spent years representing clients in this practice area. Our team has successfully resolved cases for many men and women who have been diagnosed with mesothelioma, asbestosis, lung cancer and other asbestos-related diseases.
Our past case results include:
$50 million verdict for a steel mill worker who tragically lost his life from mesothelioma after being exposed to asbestos.
Over $20.8 million in settlements for employees who were exposed to asbestos and died from mesothelioma.
Over $22 million in settlements for workers who were exposed to asbestos and passed away from lung cancer.
Over $1 million in settlements for workers who developed asbestosis after being exposed to asbestos on the job, many of whom were smokers.
Tobacco use does not prevent you from filing a mesothelioma claim and receiving compensation. If you are a smoker, you may still be eligible for compensation for mesothelioma, asbestosis, lung cancer and other diseases caused by asbestos. Find out more about how our mesothelioma lawyers can help you with a claim during a case review with a local attorney in Illinois.
Pursuing Compensation for Mesothelioma in Pennsylvania
Mesothelioma victims may be entitled to financial compensation through one or multiple means in Pennsylvania. Most asbestos and mesothelioma claims are based on the plaintiff's legal theory of negligence. If someone is negligent, he or she failed to exercise reasonable care. When negligence results in someone else's injury or illness, including asbestos-related diseases, the victim can sue for financial damages.
Sources of financial compensation for patients who are diagnosed with mesothelioma may include:
Personal injury or wrongful death claim – the two most common types of mesothelioma lawsuits. These claims seek compensation from the person, entity or company that negligently exposed the victim to asbestos.
Settlement – an amount of money paid to the plaintiff by the defendant to resolve the legal matter without a full trial.
Jury verdict – if a mesothelioma case goes to trial, it can end in a verdict given by the jury that requires the defendant to pay the plaintiff.
Asbestos trust fund – a fund set up by companies to ensure that they can pay victims of asbestos exposure even if they go bankrupt.
Workers' compensation claim – no-fault benefits that are available to eligible employees from employers who have this type of insurance in Pennsylvania.
Veterans' claim – a special type of claim reserved for members of the armed forces that suffer illnesses or injuries while serving in the military.
Discuss the best course of action for you and your family with a mesothelioma attorney. The attorneys at Bailey & Glasser, LLP have years of experience handling all of these types of claims. We can take care of the paperwork and legal processes that are required to achieve the compensation you deserve.
Damages Available for Mesothelioma Victims
No dollar amount will ever suffice to pay for a devastating diagnosis such as mesothelioma. However, collecting fair and full compensation from an insurance company or another entity could provide some financial relief and peace of mind during this difficult time. For example, it can give you and your family the money that you need to pay for mesothelioma treatments, such as surgery, chemotherapy and radiation therapy.
A successful settlement or verdict could result in payment for several losses, including:
Present and future medical bills
Ongoing or palliative health care
Live-in nursing aide
Lost wages and capacity to earn in the future
Physical pain and emotional suffering
Psychological distress
Diminished enjoyment or quality of life
Legal fees and out-of-pocket costs
Punitive damages, in some cases
If you tragically lost a loved one due to mesothelioma, your family may be entitled to wrongful death benefits. These can pay for funeral and burial costs, lost earnings or inheritance, loss of consortium and care, mental anguish, and more. The attorneys at Bailey & Glasser, LLP can carefully review the facts of your case to assess its value. Then, we will use aggressive legal strategies to pursue optimal results.
Mesothelioma Facts and Information 
We know that you have a lot of questions as someone who has been diagnosed with mesothelioma. Part of our law firm's mission is to make sure our clients get answers, advice and support. We connect our clients to vital mesothelioma resources and the latest information on this disease. As your lawyers, we can provide all of the legal information you need to move forward with a claim.
Here are some basic facts about mesothelioma:
Malignant mesothelioma is a terminal type of cancer that forms in the mesothelium. This is the thin tissue or membrane that lines many of the internal organs. Mesothelioma forms in four main areas: the lining of the lungs (the pleura), the lining of the abdomen (the peritoneum), the sac around the heart (the pericardium) and the lining of the testicles (the tunica vaginalis).
The Centers for Disease Control and Prevention (CDC) states that from 1999 to 2018, 82.1 percent of mesothelioma diagnoses were pleural mesothelioma. This is the most common type of mesothelioma. It is associated with symptoms such as respiratory problems, trouble breathing and a persistent cough.
Mesothelioma is caused by asbestos. Asbestos is a group of six minerals that occur naturally. All six types were confirmed as cancer-causing, or carcinogenic, by the International Agency for Research on Cancer in 1987. Asbestos causes cancer when the fibers get lodged in the mesothelium and cause irritation, inflammation and scarring. Over time, this can lead to the development of cancerous tumors.
The latency period for mesothelioma is long. The latency period refers to the amount of time that passes from the patient's date of asbestos exposure to the development of malignant mesothelioma. The average latency period is about 20-60+ years.
Mesothelioma can be prevented by avoiding exposure to asbestos. This requires due diligence on the part of building owners, as asbestos is found in older products and materials, such as in homes constructed prior to the 1980s. If the proper asbestos containment and removal procedures are not followed during events such as renovations or demolitions, the owner of the property could be held responsible for related illnesses, including cases of mesothelioma. It is also the responsibility of manufacturers to make sure that the products they sell do not contain more than the accepted amount of asbestos.
Known Asbestos Exposure Sites in Pennsylvania
Asbestos was mainly used in the mining and milling of raw materials for manufacturing construction materials or consumer end products. It was used widely as a fire-proofing substance when building homes or structures. For this reason, it is still present in many buildings and locations throughout Pennsylvania, putting citizens at risk of asbestos exposure.
The Agency for Toxic Substances and Disease Registry states that asbestos is often found today in locations such as:
Construction projects
Demolition sites
Factories
Homes built before the 1980s
Manufacturing facilities
Military bases and sites
Office buildings
Power plants
Refineries
Schools
Shipyards
Steel mills
You could be exposed to asbestos if a renovation project or demolition disturbs old asbestos-containing materials, sending microscopic asbestos particles and fibers into the air. If these particles are inhaled or ingested, they can become lodged in the mesothelium in different parts of the body and eventually cause mesothelioma. Other illnesses connected to asbestos exposure include asbestosis and lung cancer.
Mesothelioma by the Numbers in Pennsylvania
Pennsylvania is one of the top states in the country for new mesothelioma cases. Based on data collected by the CDC, there were 874 new cases of mesothelioma diagnosed in Pennsylvania from 2015 to 2019. This puts Pennsylvania in fifth place in the country for the number of new cases, behind California, Florida, Texas and New York.
Pennsylvania has an age-adjusted rate of new cases of 1.0 per 100,000 people (95 percent confidence interval: 0.9-1.1). It reported a five-year relative mesothelioma survival rate of 10.2 percent from 2015 to 2019. This is close to the national median five-year survival rate, which is 10 percent, according to the National Library of Medicine. The survival rate is the percentage of patients who are still alive five years after the date of their diagnosis.
Pennsylvania Mesothelioma Statistics: Breakdown by County (2015-2019)
| | | | | |
| --- | --- | --- | --- | --- |
| County | Age-Adjusted Rate | New Cases | Deaths | Population |
| Allegheny County | 1.0 | 89 | 75 | 6,109,882 |
| Montgomery County | 1.4 | 77 | 63 | 4,119,463 |
| Philadelphia County | 0.7 | 61 | 43 | 7,900,843 |
| Bucks County | 1.1 | 49 | 40 | 3,136,021 |
| Delaware County | 1.1 | 39 | 42 | 2,823,321 |
| Lancaster County | 1.1 | 38 | 31 | 2,705,016 |
| Westmoreland County | 1.2 | 34 | 30 | 1,763,462 |
| Chester County | 1.0 | 32 | 29 | 2,598,238 |
| Butler County | 2.2 | 28 | 20 | 935,900 |
| Luzerne County | 1.2 | 26 | Data Suppressed | 1,588,957 |
Source: The Centers for Disease Control and Prevention
Who Is Most at Risk of Developing Mesothelioma?
Occupational exposure puts people at the highest risk of developing mesothelioma, according to the National Cancer Institute. Those with jobs that involve direct contact with asbestos or substantial environmental contact have the greatest odds of related illnesses due to regular exposure. While overall evidence suggests that there is no safe level of asbestos exposure, mesothelioma is more likely to occur with regular contact (source: the American Cancer Society).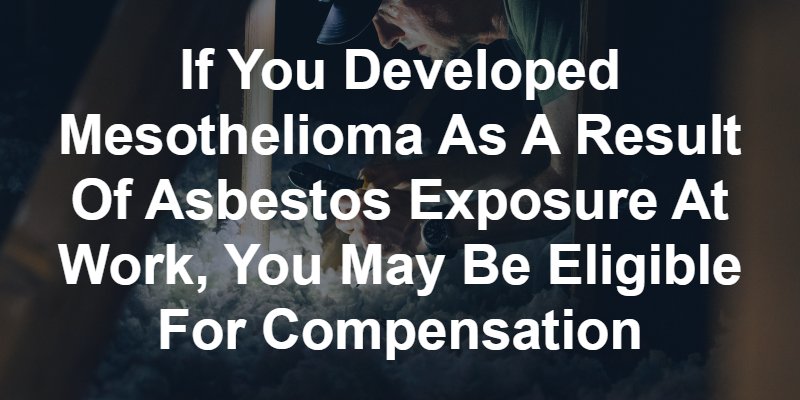 Dangerous occupations in terms of asbestos exposure and mesothelioma are construction and building trades, HVAC and insulation work, electrical work, firefighting, auto repair, and the military. Working in facilities or plants that manufactured products that contain asbestos also puts employees at risk of mesothelioma. If you developed mesothelioma as a result of asbestos exposure at work, you may be eligible for compensation through a lawsuit against your employer and/or a workers' compensation claim.
Deadline to Take Legal Action
All states have statutes of limitations on mesothelioma and asbestos-related claims. Statutes of limitations are legal deadlines or time limits for filing lawsuits. In Pennsylvania, under the Consolidated Statutes, Section 5524, the statute of limitations is two years for all actions to recover damages for personal injuries or illnesses. This includes lawsuits brought for mesothelioma.
Pennsylvania's two-year filing deadline begins counting down on the date that the cause of action accrues. This can mean various things based on the circumstances. In a case involving asbestos, the deadline is typically two years from the date that the patient discovered, or reasonably should have discovered, that he or she was ill. Due to the long latency period, this can be many decades after the date of asbestos exposure.
The Pennsylvania courts are strict with the statute of limitations; most claims that are brought after the expiration of the statute are rejected. This is why it is imperative to contact a mesothelioma attorney near you as soon as possible after your diagnosis. A lawyer can immediately go to work on investigating your case and collecting evidence to file your claim before the deadline.
Request a Case Consultation With a Mesothelioma Attorney in Pennsylvania Today
If you have any questions about a lawsuit regarding mesothelioma or other asbestos-related illnesses, contact Bailey & Glasser, LLP. We will connect you to vital resources and information to help you make it through this difficult time. Over the years, we have helped countless clients receive the compensation that they need to pay for necessary medical care and other expenses.
Our Pennsylvania mesothelioma lawyers will help you file a claim, negotiate with insurance adjusters for you, answer your questions and protect your legal rights. Most importantly, we will be your advocates and confidants through each phase of the legal process. You aren't alone as someone who has been diagnosed with mesothelioma or who is caring for a loved one with this fatal disease.
Our Office in Pennsylvania:
Please contact us to schedule a one-on-one consultation with an experienced and knowledgeable mesothelioma attorney to find out how we can help. We will listen to your story, inform you of your rights and help you pursue justice for asbestos exposure. Call (618) 693-2462 to get in touch with a Bailey Glasser mesothelioma attorney in Pennsylvania today.
Client Testimonial
"My husband Jim, he worked in a chemical plant… ended up with the flu and that turned into a diagnosis of cancer… My favorite part about working with Mickey was you knew he was confident in his job. When you have somebody that's confident, that makes you more confident. Mickey was really good for us, he worked hard for us. Mickey's a fighter, he doesn't give up."