You are not alone as someone who was recently diagnosed with mesothelioma in North Carolina. Help is available at Bailey & Glasser, LLP. We are a full-service law firm with offices across the country. Our experienced asbestos attorneys can help you understand and protect your rights as you seek financial compensation for your illness. We are passionate about helping those who have been exposed to asbestos pursue justice. Call (866) 871-7971 to get help today.
Why Clients Choose Bailey & Glasser, LLP
We have recovered over $90 million in settlements and verdicts for mesothelioma victims across the country.
Our North Carolina mesothelioma attorneys are highly knowledgeable about this practice area; we have been helping clients since our law firm was founded in 1999.
We are not afraid to go up against any defendant on behalf of our client. This includes major corporations and insurance companies.
Your case is always a priority to your attorney. Our mesothelioma lawyers dedicate individual time and attention to each case and client.
Navigate This Page
Notable Case Results
Our legal team has managed over 3,000 cases and achieved a remarkable recovery of over $2 billion in settlements and verdicts specifically pertaining to asbestos-related cases. Noteworthy accomplishments include:
Securing a $50 million verdict for a mesothelioma victim, a steel mill worker whose asbestos exposure led to his untimely demise.
Garnering settlements exceeding $22 million for workers, including many who were smokers, whose exposure to asbestos resulted in fatal lung cancer.
Successfully obtaining settlements totaling more than $20.8 million for individuals who faced asbestos exposure in their workplaces, ultimately succumbing to mesothelioma.
Achieving settlements surpassing $1 million for workers who developed asbestosis—a non-malignant lung scarring condition—as a direct consequence of asbestos exposure.
You May Be Entitled to Financial Compensation as a Mesothelioma Victim
Mesothelioma can be prevented by protecting people from asbestos exposure. In a workplace that relies on asbestos-containing materials, for example, or in an older building that has been proven to contain asbestos, employers and property owners should take steps to protect others from exposure, such as adhering to federal and state asbestos laws. North Carolina has several laws in place for the control, management and abatement of asbestos.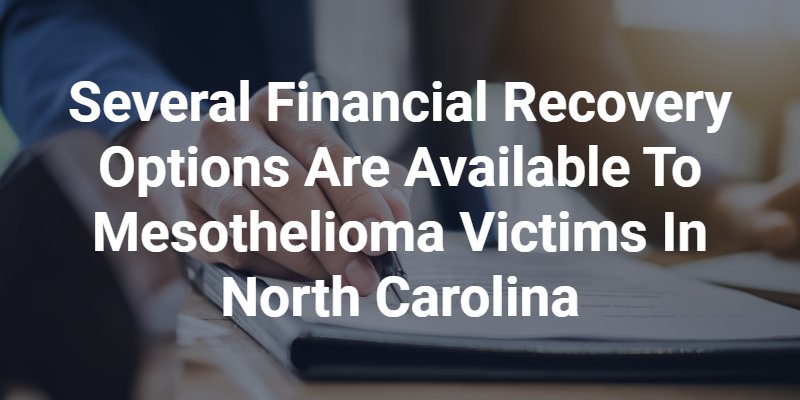 If a company, employer, manufacturer, landowner, building supervisor or another party reasonably should have protected you from asbestos but negligently failed to do so, you may be eligible for financial compensation. A successful mesothelioma lawsuit or claim could reimburse you and your family for related medical bills, lost wages, pain and suffering, attorney's fees, and more.
Several financial recovery options are available to mesothelioma victims in North Carolina. You may be able to file a workers' compensation claim, for example, if you were exposed to asbestos in your workplace. If the company that exposed you to asbestos has gone bankrupt, you may still be eligible for an asbestos trust fund claim. Other recovery options may include a veterans claim, personal injury lawsuit, class action lawsuit or multidistrict litigation.
How Can a North Carolina Mesothelioma Lawyer Help?
A mesothelioma attorney can guide you and your family through the legal process efficiently and effectively. You can trust your lawyer to protect your best interests every step of the way as you seek answers, justice and accountability for a mesothelioma diagnosis. An attorney can answer your legal questions, determine the best route to take in the pursuit of financial compensation, connect you to important legal resources and make sure that your family has everything it needs during this difficult time.
Mesothelioma Facts
Mesothelioma is a rare type of terminal cancer that is caused by exposure to asbestos. Any amount of asbestos exposure can result in mesothelioma, as there is no safe amount of this mineral, according to the National Cancer Institute.
However, frequent or consistent exposure puts an individual at an increased risk of harm. Malignant mesothelioma can develop when an individual inhales or ingests tiny fibers or particles of asbestos. If asbestos gets stuck inside the body, it can cause irritation, inflammation and scar tissue. Eventually, this can result in the development of cancerous tumors.
There are four types of mesothelioma based on where the tumors form:
Pleural mesothelioma: forms in the lining that surrounds the lungs, or the pleura.
Peritoneal mesothelioma: forms in the lining of the abdomen, or the peritoneum.
Pericardial mesothelioma: forms in the protective sac around the heart, or the pericardium.
Testicular mesothelioma: forms in the lining that surrounds the testes, or the tunica vaginalis.
Pleural mesothelioma is the most common type, accounting for 82.1 percent of all mesothelioma diagnoses in the United States from 1999 to 2018 (source: the Centers for Disease Control and Prevention, or CDC). Unfortunately, there is no known cure for mesothelioma. The average life expectancy for someone who is diagnosed with mesothelioma is approximately 12 to 21 months, with treatment, according to the National Library of Medicine. However, this varies based on the type of mesothelioma, the stage of the cancer at the time of diagnosis, the treatment options available and the individual patient.
How Common Is Mesothelioma in North Carolina?
The CDC reports an incidence rate of malignant mesothelioma in the United States of 3,128 new cases per year, on average. In 2019, North Carolina reported 81 new cases of mesothelioma to the CDC. This is consistent with North Carolina's average annual number of mesothelioma cases, based on a total of 390 from 2015 to 2019. In this time, 292 people in North Carolina died from mesothelioma.
The top three counties for mesothelioma diagnoses in the state were:
Wake (40)
Guilford (24)
Mecklenburg (17)
Who Is Most at Risk of Asbestos Exposure in North Carolina?
As a resident of North Carolina, you may have been exposed to asbestos at many points in your life. The long latency period of mesothelioma – approximately 20-60+ years – can make it difficult to pinpoint exactly when you were exposed to asbestos. Many different industries relied on asbestos to manufacture various products. However, certain products are more likely to contain asbestos than others. North Carolina residents need to be mindful of these products.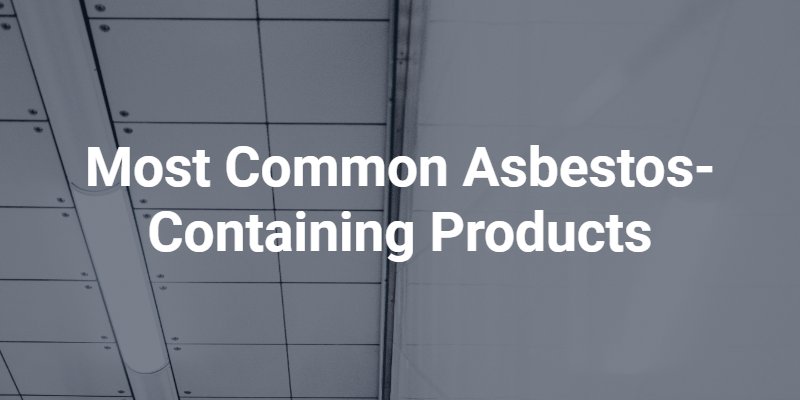 Common asbestos-containing products and materials include:
Ductwork
Wall insulation
Drywall
Roofing materials
Vinyl tiles
Adhesives
Textured ceiling sprays
Cement products
Heat-resistant fabrics
Furnaces, boilers and water pipes
Auto parts, including brake pads
In addition to dangerous products, specific careers and occupations are known to expose workers to a higher risk of asbestos exposure and mesothelioma than others in North Carolina. These include construction jobs, contracting, HVAC and furnace services, military service, shipbuilding, firefighting, auto repair, commercial painting, and electrical work.
Additionally, many schools and universities throughout the United States have been found to contain significant amounts of asbestos and asbestos-containing products.  If you are not sure when or where you were exposed to asbestos, Bailey & Glasser, LLP has investigators who can help.
Client Testimonial
"This firm is cream of the crop — they are lawyers' lawyers."
"The attorneys are widely recognized to have excellent academic backgrounds, stellar legal experience, and a strong commitment to ethics and justice. The firm is an active supporter of the communities in which it practices and deservedly enjoys excellent relationships with federal and state courts."
-Judith
Contact a Lawyer About a Potential Mesothelioma Claim in North Carolina
If you or a loved one has recently been diagnosed with mesothelioma in North Carolina, contact an attorney at Bailey & Glasser, LLP for assistance. We care about your rights and what happens to you. Our experienced mesothelioma attorneys can help you pursue a fair case outcome with personalized legal services.
Start your case with a consultation with one of our intake specialists. Contact us today at (866) 871-7971 or by filling out and submitting our online contact form.