Construction workers are at a high risk of occupational asbestos exposure. Asbestos is connected to many serious diseases, including mesothelioma, a rare and aggressive form of cancer. If you or a loved one has been diagnosed with mesothelioma or another illness connected to exposure to asbestos in construction or a similar industry, contact Bailey & Glasser, LLP for a free case consultation. Our asbestos attorneys can help you understand your rights and seek justice.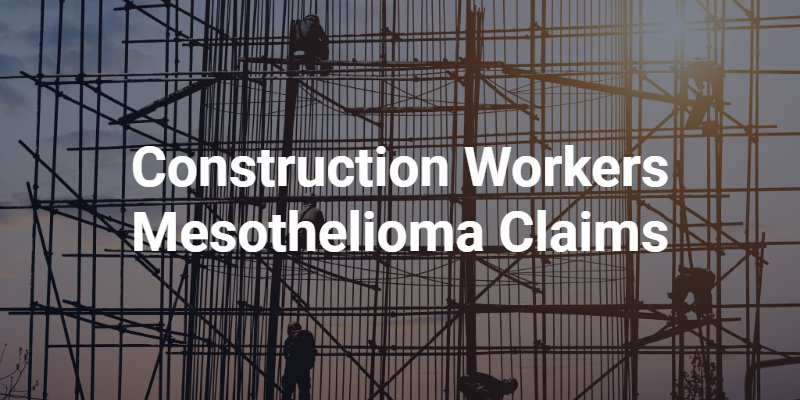 The Risks of Occupational Exposure to Asbestos
Asbestos is a naturally occurring group of minerals that are connected to mesothelioma, lung cancer and other types of cancers. From 1999 to 2018, an average of 3,127 new cases of mesothelioma were diagnosed each year in the U.S., according to data collected by the Centers for Disease Control and Prevention. Exposure to asbestos can also cause asbestosis, a chronic lung disease that is caused by scarring and inflammation in the lungs.
Asbestos can cause cancer by becoming lodged inside a victim's body, such as in the mesothelium – the protective membrane that lines many organs. Over time, the asbestos fibers cause irritation and scar tissue that can alter the victim's cells and cause cancer. The average latency period for mesothelioma is 20-60+ years. Sadly, there is no way to remove asbestos from the body, and no known cure for mesothelioma.
People with occupations that put them in frequent or continuing contact with asbestos, asbestos dust or asbestos-containing products are at a higher risk of developing mesothelioma. The National Cancer Institute states that while there is no "safe" level of asbestos exposure, people who are around it regularly are at an increased risk of suffering related health problems. This includes workers in the construction industry.
Asbestos in Construction
The use of asbestos in consumer products and building materials was not regulated in the U.S. until the 1970s, when the Environmental Protection Agency issued its Final Rule on asbestos-containing products. Until then, it was used widely to manufacture products for many decades. Properties such as its durability, cost-effectiveness, and natural resistance to heat and corrosion led to many building materials being created with asbestos.
Examples of asbestos-containing building and construction materials include:
Adhesives
Boilers
Ceiling sprays
Ceiling tiles
Drywall
Duct tape
Felts
HVAC systems
Insulation
Joint compounds
Mortar and spackle
Paint
Pipes
Roofing materials
Siding panels
Texturized sprays
Disturbing any old building materials that contain asbestos during a construction, demolition or renovation project could send asbestos dust into the air, putting workers at risk of inhaling or ingesting particles. It is not only construction workers who are at risk of being exposed to these asbestos-containing materials; roofers, HVAC workers, painters, electricians, bricklayers, carpenters, plumbers and other laborers could also be exposed.
Secondhand Asbestos Exposure
In addition to construction workers potentially being exposed to asbestos on the job, there is also the risk of their family members and loved ones being exposed. Secondhand asbestos exposure can occur when a worker who interacts with or around asbestos carries fibers and particles home on his or her clothing, hair or equipment. The worker's household members can then be exposed to asbestos that is brought home. A construction worker can help prevent secondhand asbestos exposure by showering and changing clothes before going home, or by using protective gear that stays at work.
Justice for Construction Workers – Mesothelioma and Asbestos Lawsuits
Exposure to asbestos is a preventable health risk in the construction industry and other workplaces. Employers have a responsibility to protect their workers from this dangerous substance, such as with proper training, personal protective equipment and safe work environments. For example, the Occupational Safety and Health Administration (OSHA) has rules in place specifically for asbestos safety in the workplace.
Unfortunately, many employers and construction companies are negligent, or fall short of the duty to protect their employees from occupational asbestos exposure. If your employer was negligent and this led to your mesothelioma diagnosis, you may have grounds to file a lawsuit against the construction company. A lawsuit seeks financial compensation for your losses, such as medical bills and lost wages, from the party at fault for causing or contributing to your illness.
With assistance from an attorney, you may be able to prove that your employer was negligent. If your employer has gone bankrupt or out of business since you worked at the company, you may be able to seek compensation through an asbestos trust fund, instead. This is a fund set up by companies to reimburse affected employees even after they go bankrupt.
It may also be possible to file a product liability lawsuit against the manufacturer of the building material or product that exposed you to asbestos as a construction worker. Manufacturers of asbestos products include Kentile Floors, Johns Manville, Owens Corning, Delaware Insulation, Brunswick Fabrications, Flintkote Company, Kelly-Moore Paints, W.R. Grace, Celotex and the American Olean Tile Company. An attorney from Bailey & Glasser, LLP can help you understand your legal options.
How Hiring an Asbestos Attorney Can Help
Construction workers have successfully brought lawsuits against product manufacturers, construction companies and other employers for exposure to asbestos that caused them to develop related diseases later in life. They have filed lawsuits, trust fund claims, product liability suits and workers' compensation claims to hold numerous parties accountable.
An asbestos attorney can review your case and explain your legal options based on your unique situation. Then, your lawyer can go to work on investigating your case and gathering any available evidence to support a claim to damages. You can trust your lawyer to file all of the necessary paperwork involved in your claim and fight for maximum financial compensation on your behalf. Working with an attorney can make the legal process easier while you focus on moving forward.
Contact Bailey & Glasser LLP Today
Asbestos was a staple used in countless building materials from the 1800s until the 1980s. Millions of homes, commercial buildings, factories, offices, shipyards and power plants were built using asbestos. If you or someone you love was exposed to asbestos while working in construction or a similar industry, you may be eligible for financial compensation for a related disease. Discuss your legal rights and options with one of our attorneys at Bailey & Glasser, LLP for more information. Request a free consultation when you call (866) 871-7971.