If you or someone you love has mesothelioma, you may have the right to file a claim or lawsuit for financial compensation. The attorneys at Bailey & Glasser, LLP can help you file your claim and navigate the legal process. We have spent years representing victims of exposure to asbestos and have recovered over $90 million in settlements and verdicts for clients in this practice area. 
We are ready to help you and your family with a mesothelioma case in Florida. Call (727) 894-6745 today to learn more during a one-on-one consultation with one of our experienced asbestos attorneys. Our Florida law office is located at 360 Central Avenue Suite 1450 in St. Petersburg.
Why Choose Us? 
Our full-service law firm is equipped to handle even the most challenging cases and legal issues. We work with attorneys both inside and outside of our law firm to achieve the best possible results for every client.

We have a highly successful asbestos and lung disease team. Examples include a $50 million verdict for a steel mill worker who died of mesothelioma and over $22 million in settlements for workers who were exposed to asbestos and died from lung cancer.

We care about our clients and focus on the personal side of personal injury law. Our law firm can connect you to vital mesothelioma resources and answer your questions to provide greater peace of mind to you and your loved ones during this difficult time.
What Is Mesothelioma?
Mesothelioma is cancer of the mesothelium, which is the protective layer of tissue that surrounds many of the internal organs. Malignant mesothelioma is a terminal type of cancer with no known cure. Currently, the median survival rate after being diagnosed with mesothelioma is approximately one year, with long-term survival being extremely rare (source: The National Library of Medicine).
Mesothelioma is caused by exposure to asbestos. Asbestos refers to a group of six naturally occurring minerals that are resistant to heat, electricity and corrosion. These properties made asbestos a popular material for manufacturing purposes. In 1987, however, the use of asbestos became regulated after it was confirmed as a carcinogen by the International Agency for Research on Cancer. 
When an individual is exposed to asbestos, microscopic asbestos fibers and particles can become lodged in the mesothelium. Over time, these particles can cause tissue irritation, inflammation and scarring that result in cancerous tumors. The latency period for mesothelioma – the amount of time that passes between exposure to asbestos and the development of cancer – typically ranges from 20-60+ years. 
How Common Is Mesothelioma in Florida?
Overall, mesothelioma is a rare type of cancer. According to the Centers for Disease Control and Prevention (CDC), approximately 3,128 new cases of mesothelioma are diagnosed in the United States each year. This is based on data collected from 1999 to 2018. In Florida, however, mesothelioma is more common than in every other state besides California.  
Here are some facts and statistics regarding mesothelioma in Florida based on the latest cancer research:
Florida is the

second state in the country

for the highest number of new mesothelioma diagnoses per year, according to

data presented by the CDC

.

The CDC reports that Florida had

1,146 new cases of mesothelioma from 2015 to 2019

. This puts it behind only California (1,579) for the number of new cases in this time span. 

Florida's reported an average of about

229 new cases per year

. Florida's age-adjusted rate of new mesothelioma cases was 0.7 per 100,000 people (95 percent confidence interval: 0.7-0.8).

From 2015 to 2019,

831 people in Florida died of mesothelioma

. The majority of victims were reported as male (637), while 196 were reported as female.

Florida's

five-year relative survival rate

for patients with mesothelioma during the CDC's study period was

10.5 percent

. This is on par with the national survival rate of 10 percent (source: the

National Library of Medicine

).
If you have been diagnosed with mesothelioma in Florida, you are not alone. You may have been negligently exposed to asbestos by an employer, company, product manufacturer, property owner or another party in Florida. This party may now be financially responsible for your illness and related bills, even if the asbestos exposure occurred years ago.
Top 10 Counties in Florida for Mesothelioma Cases and Deaths (2015-2019) 
| | | | | |
| --- | --- | --- | --- | --- |
| County | Age-Adjusted Rate | New Cases | Deaths | Population |
| Broward County | 0.7 | 83 | 47 | 9,638,693 |
| Palm Beach County | 0.6 | 82 | 76 | 7,327,457 |
| Miami-Dade County | 0.5 | 79 | 42 | 13,479,888 |
| Pinellas County | 0.9 | 77 | 50 | 4,825,787 |
| Lee County | 0.8 | 53 | 39 | 3,692,325 |
| Sarasota County | 1.0 | 51 | 36 | 2,100,463 |
| Duval County | 1.0 | 49 | 30 | 4,687,633 |
| Hillsborough County | 0.6 | 46 | 35 | 7,123,480 |
| Pasco County | 0.9 | 41 | 30 | 2,624,143 |
| Brevard County | 0.8 | 40 | 34 | 2,927,680 |
Source: The Centers for Disease Control and Prevention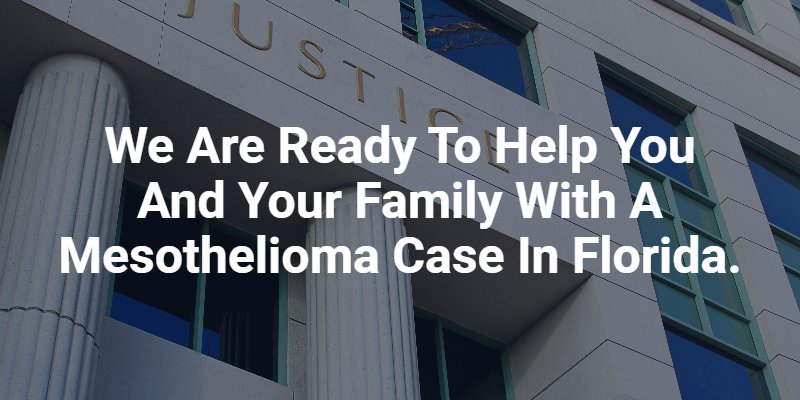 Where Is Asbestos Found in Florida?
Asbestos was used most often in materials that needed to resist heat, corrosion or electrical currents. It was a popular ingredient for building and construction materials, as well as in shipbuilding and to create friction products (e.g., automotive brakes and clutches). Today, asbestos may be found in vintage products and buildings in Florida that were constructed before the 1990s. If older products or materials are disturbed, they could emit asbestos particles into the air – putting everyone nearby at risk of related illnesses.
Common locations in Florida that may contain asbestos are: 
Active or inactive waste disposal sites

Auto mechanic shops

Churches

Construction zones

Demolition sites

Factories

Manufacturing centers

Military sites

Office buildings and workplaces

Public places

Residential buildings

Schools

Shipyards 

Warehouses
Products that often contain asbestos include roofing materials, vinyl floor tiles, siding tiles, adhesives, textured paints, wall and attic insulation, drywall, plaster, cement, paper products, heat-resistant fabrics, and auto parts. The best way to prevent mesothelioma is to avoid places and products in Florida that could put you at risk of exposure to asbestos.
Who Is Most at Risk of Mesothelioma?
According to the National Cancer Institute (NCI), there is no safe level of asbestos exposure. Being exposed even once could potentially cause cancer and other health problems. However, the NCI states that those who are most likely to become ill from asbestos are those who are exposed to it often, such as workers in occupations that bring them in direct or substantial environmental contact with this carcinogen regularly.
Workers in Florida that have a higher risk of asbestos exposure and related health hazards include: 
Asbestos abatement and removal professionals

Carpenters

Construction workers

Demolition and renovation workers

Electricians

Firefighters

HVAC technicians

Insulation installers

Military servicemembers

Steel mill workers

Workers in power plants and factories
If you have worked in one of these occupations, you may have been exposed to asbestos on the job. Although employers have federal and state asbestos regulations to obey – such as those enforced by the Occupational Safety and Health Administration – many cut corners and violate the rules to save time and money. If your employer negligently exposed you to asbestos on the job, you may have grounds to bring a claim or lawsuit against the company.
Florida Asbestos Regulations 
After asbestos became recognized as a known carcinogen, the federal government passed laws to keep the public as safe as possible from the health risks posed by asbestos. Most states, including Florida, also passed their own laws pertaining to the use, containment, control and abatement of asbestos. It is the responsibility of every property owner, company and individual in Florida to adhere to these laws.
Florida's asbestos regulations currently include:
Florida Asbestos Removal Program

:

a state program that requires renovation and demolition projects to abide by the requirements of the National Emission Standards for Hazardous Air Pollutants (NESHAP).

Florida Statutes Chapter 255:

prohibits the use of asbestos or asbestos-based fiber materials in any new public building or buildings built for lease to governmental entities that are constructed after September 20, 1983.

Florida Statutes Chapter 469:

sets rules for asbestos abatement (removal, containment or disposal), such as requiring a license to conduct asbestos surveys and maintenance plans.
Unfortunately, not everyone obeys Florida's asbestos laws. An employer may not properly supervise jobs involving asbestos, for example, or provide adequate personal protective equipment (PPE). The owner of a building that contains asbestos may not follow Florida's laws for safely removing asbestos materials. If someone is responsible for exposing you to asbestos due to a breach of protocol or a broken law, they may be held liable for your related illness.
What Are Your Legal Options After Being Diagnosed With Mesothelioma?
Taking legal action after being diagnosed with mesothelioma can give you a sense of justice. Holding one or more parties accountable for your illness can also result in financial compensation to help you and your family pay for necessary medical care. Many victims of asbestos exposure in Florida have the right to file personal injury or wrongful death lawsuits on the basis of negligence. Negligence is the failure to use reasonable or appropriate care, resulting in harm to others. 
Proving negligence in a mesothelioma case requires evidence that proves four key elements as more likely to be true than not true. The first element is that the defendant owed you a duty of care, or an obligation to act in a certain way. This could refer to an employer's responsibility to protect employees from exposure to asbestos, for example, or a manufacturer's duty to make sure its products do not contain asbestos. 
The second element is a breach of the duty of care. This refers to an action or omission that falls short of the required amount of care; something that a prudent party would not have done under the same or similar circumstances. The third element is causation, or proof that the defendant's negligence is what caused your illness. The fourth and final element is damages suffered, or specific losses that you suffered because of the defendant's actions.
Sources of Compensation for Mesothelioma and Asbestos Exposure in Florida
Achieving financial compensation through a mesothelioma lawsuit in Florida requires clear and convincing evidence to prove your case. An attorney from Bailey & Glasser, LLP can help you preserve and collect evidence, such as medical records and testimony from experts. Most mesothelioma claims end in settlements. A settlement is an amount of money paid by a defendant to stop a lawsuit from progressing or to prevent one from being filed.
If a mesothelioma lawsuit cannot reach a settlement and has to go to trial, it could result in a jury verdict in favor of the plaintiff. This means that the jury agrees that the plaintiff has met the burden of proof and established the defendant's liability and is requiring the defendant to pay. Mesothelioma lawsuits are uncommon in Florida, as most defendants seek to settle claims early in the process to save money and avoid the uncertainty of going to trial.
Mesothelioma claims in Florida also have a unique potential source of financial compensation in asbestos trust funds. An asbestos trust fund is set up by a company to ensure that it can pay victims of asbestos exposure even after it declares bankruptcy. To be eligible for a trust fund claim, you must have been exposed to asbestos by your employer, exposed to asbestos by a household member who worked in asbestos industries (secondary exposure), or the loved one of someone who lost his or her life due to an asbestos-related disease.
Deadline for Taking Legal Action in Florida
Florida has a statute of limitations on filing mesothelioma and other asbestos-related claims. A statute of limitations is a legal deadline. With only rare exceptions, if you miss your deadline, you will be barred from making a financial recovery. In Florida, the statute of limitations on most personal injury claims is four years from the date that the cause of action accrues. 
Florida Statutes Section 774.206 states that in a claim involving asbestos exposure, the limitations period begins when the person discovers or should have discovered through reasonable diligence that he or she has an asbestos-related condition. This typically means that you have four years from the date that you are diagnosed with mesothelioma to take legal action in Florida. Contact an attorney right away to avoid missing your deadline.
Contact Us Today | Schedule a Case Review With a Florida Mesothelioma Lawyer
The asbestos and mesothelioma attorneys at Bailey & Glasser, LLP have years of experience representing clients across the country. We have the knowledge, drive and determination to help you and your family with an asbestos-related claim. We will listen to your story and walk you through the legal process from start to finish, making sure your family has everything it needs along the way.
Our lawyers will fight for justice and maximum financial compensation on your behalf while you spend time with your family and focus on what matters most. Speak to an intake specialist with the Bailey Glasser asbestos and lung cancer team today for more information. Call (727) 894-6745 or submit our online contact form and we will get back to you as soon as possible to schedule a mesothelioma case consultation.