If you or a loved one has been diagnosed with mesothelioma, legal help is available at Bailey & Glasser, LLP. Our Illinois mesothelioma attorneys are passionate about bringing resources, information, assistance and high-quality legal representation to victims who are diagnosed with this disease after being exposed to asbestos.
Our attorneys understand what you're going through and how devastating it is to receive this diagnosis. We are here for you and your family during this difficult time. Our law firm has recovered over $90 million in mesothelioma settlements and verdicts for clients across the United States. Find out how we can help you during a case consultation at one of our conveniently located law offices in Illinois. We look forward to helping you.
Navigate This Page
Our Experience With Mesothelioma Claims
At Bailey & Glasser, LLP, we have a highly experienced Asbestos and Lung Disease Team with attorneys who have spent years representing clients in this practice area. Our team has successfully resolved cases for many men and women who have been diagnosed with mesothelioma, asbestosis, lung cancer and other asbestos-related diseases.
Our past case results include:
$50 million verdict for a steel mill worker who tragically lost his life from mesothelioma after being exposed to asbestos.
Over $20.8 million in settlements for employees who were exposed to asbestos and died from mesothelioma.
Over $22 million in settlements for workers who were exposed to asbestos and passed away from lung cancer.
Over $1 million in settlements for workers who developed asbestosis after being exposed to asbestos on the job, many of whom were smokers.
Tobacco use does not prevent you from filing a mesothelioma claim and receiving compensation. If you are a smoker, you may still be eligible for compensation for mesothelioma, asbestosis, lung cancer and other diseases caused by asbestos. Find out more about how our mesothelioma lawyers can help you with a claim during a case review with a local attorney in Illinois.
Compensation for Victims With Mesothelioma in Illinois 
If you or your attorney are successful in proving your mesothelioma claim, you could receive financial compensation for many past and future losses connected to your illness. Although no amount of money can make up for a devastating diagnosis such as mesothelioma, fair compensation could help you and your family pay for your health care and treatments. It can provide greater peace of mind and less financial stress during an already difficult time. Obtaining compensation can also hold one or more parties accountable for causing or contributing to your mesothelioma.
You may be entitled to financial compensation to cover the following:
Medical and health care costs
Surgeries
Chemotherapy or radiation therapy
Prescription medications
Lost wages
Physical pain and suffering
Emotional distress and psychological trauma
Wrongful death damages, if applicable
Punitive damages, in some cases
The value of your mesothelioma case is based on factors such as the amount of lost wages, the price of your medical bills and the overall impact caused by the diagnosis. With an attorney representing you, you should achieve the best possible results for your case. Your attorney will fight for maximum compensation, even if this means going to trial in Illinois. The asbestos attorneys at Bailey & Glasser, LLP are prepared to go to trial on your behalf.
About Mesothelioma 
Malignant mesothelioma is a type of cancer that is caused by exposure to asbestos. Asbestos is a group of six minerals that naturally occur around the world. Asbestos is thin and fiber-like in appearance and is invisible to the naked eye. Due to its natural fire-resistant properties and durability, asbestos was used widely for manufacturing purposes for many decades. In 1987, however, the International Agency for Research on Cancer confirmed that all six types of asbestos are carcinogenic, or cancer-causing.
Being exposed to asbestos can result in the microscopic fibers or particles being inhaled or ingested into the body. From there, asbestos fibers can become lodged in the mesothelium, or the thin protective layer of tissue surrounding the internal organs. Eventually, they can cause enough irritation and scarring to result in cancerous tumors, known as mesothelioma.
Pleural mesothelioma is the most common type of mesothelioma, accounting for 82.1 percent of all diagnoses from 1999 to 2018, according to the Centers for Disease Control and Prevention. This type of cancer affects the pleura, or the membrane that surrounds the lungs. The symptoms of pleural mesothelioma often include a persistent cough or dry cough, chest pain and tightness, shortness of breath, trouble swallowing, fatigue, and swelling of the face and arms.
The latency period, or time between the date of asbestos exposure and the development of mesothelioma, is long. It is approximately 20-60+ years. Sadly, mesothelioma is terminal, with no known cure. The CDC reports that the median life expectancy for someone who is diagnosed with mesothelioma is approximately one year.
Mesothelioma Rates in Illinois 
Mesothelioma is a relatively rare disease. Approximately 3,128 new cases of mesothelioma are diagnosed in the U.S. each year, according to the CDC. Mesothelioma is most common in states and locations with high levels of asbestos. This includes naturally occurring deposits of asbestos as well as places where asbestos was heavily used in manufacturing or for the construction of buildings.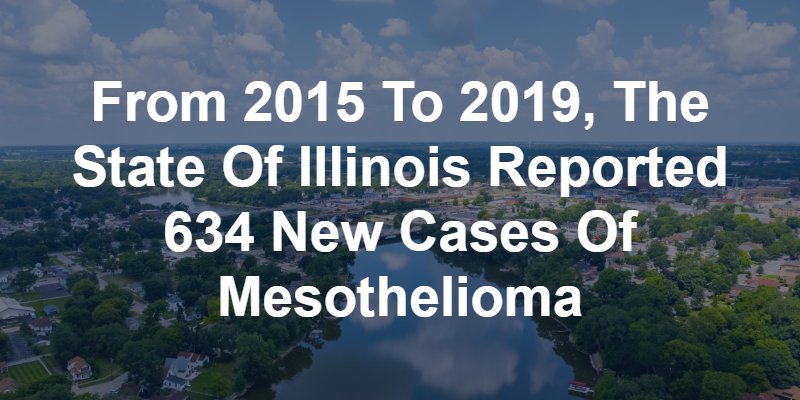 Illinois is home to many factories, industrial plants and manufacturing facilities that used asbestos before it was regulated in the United States. As a result, many residents and workers in Illinois suffered asbestos exposure and are now filing lawsuits for mesothelioma and various other asbestos-related illnesses.
According to data generated by the CDC, Illinois is ranked seventh in the country for the highest number of mesothelioma cases. From 2015 to 2019, the State of Illinois reported 634 new cases of mesothelioma. Based on this data, Illinois averaged about 127 new cases per year. Its age-adjusted rate of mesothelioma cases is 0.9 per 100,000 people (95 percent confidence interval: 0.8-0.9).
Illinois has a five-year mesothelioma survival rate of 11.2 percent. The survival rate refers to the percentage of people who are alive five years after the date that they are diagnosed with mesothelioma. Illinois' recorded survival rate is slightly higher than the national average for mesothelioma, which is 10 percent as reported by the Translational Lung Cancer Research Center.
Mesothelioma Cases and Deaths by County in Illinois, 2015-2019 
| | | | | |
| --- | --- | --- | --- | --- |
| County | Age-Adjusted Rate | New Cases | Deaths | Population |
| Cook County | 0.7 | 216 | 158 | 25,982,672 |
| DuPage County | 1.1 | 58 | 47 | 4,646,215 |
| Will County | 1.2 | 42 | 28 | 3,445,621 |
| Lake County | 0.9 | 33 | 28 | 3,509,501 |
| Kane County | 1.0 | 27 | 25 | 2,656,334 |
| Winnebago County | 1.0 | 19 | 16 | 1,424,119 |
Source: The Centers for Disease Control and Prevention
Illinois Mesothelioma Frequently Asked Questions
What Are Your Rights as a Mesothelioma Victim in Illinois?
Patients who are diagnosed with mesothelioma may be eligible to file personal injury lawsuits, wrongful death claims or asbestos trust fund claims in Illinois. These cases are typically based on the argument that the victim would not have mesothelioma were it not for the negligence of another party. Negligence in a personal injury case means the failure to use ordinary or reasonable care.
If someone negligently exposed you or a loved one to asbestos, such as an employer failing to provide proper personal protective equipment (PPE) to employees, that party may be financially responsible or liable for your related losses. You may have the right to file a lawsuit against an employer, business, corporation, product manufacturer, property owner or another party – even if your asbestos exposure happened many years ago.
Most claims filed for mesothelioma or harmful exposure to asbestos in Illinois reach settlements. A settlement is an amount of money paid by a defendant (the at-fault party) to a plaintiff (the victim) to avoid going to trial or to prevent a mesothelioma lawsuit from progressing. Most defendants settle claims rather than go to trial, as litigation is more expensive.
If the company that is responsible for a victim's exposure to asbestos has gone bankrupt, the victim may still be eligible for compensation through an asbestos trust fund. These funds were set up to prevent companies from escaping liability due to bankruptcy. Obtaining compensation from an asbestos trust fund does not require filing a lawsuit.
Who Is Liable for Exposure to Asbestos or Mesothelioma?
The individual or entity named as the defendant in a mesothelioma case in Illinois depends on the circumstances. In a personal injury claim, the defendant is the party most responsible or at fault for the plaintiff's illness or injury. In a mesothelioma claim, it is the party that exposed the victim to asbestos. For example, Illinois has asbestos laws and regulations to protect the public, such as laws regarding who is qualified to abate and remove asbestos from a premises. Violating these laws can lead to liability for a related illness.
The liable party in your mesothelioma case could be one of the following:
The manufacturer, distributor or retailer of a product that contained asbestos. Common examples include textiles, floor tiles, auto brakes and clutches, insulation, building materials, and heat-resistant fabrics.
The owner or supervisor of a building that contained asbestos. Property owners have an obligation to obey state and federal asbestos laws for asbestos containment and abatement. Violating these rules can expose residents to asbestos.
A company or employer that failed to protect employees from asbestos exposure. Employers have a duty to prevent asbestos-related illnesses with proper safety protocols in work environments that involve asbestos.
You and your family may have the right to file a claim against one of these parties or a combination of defendants for your mesothelioma. You can file on your own behalf if you've been diagnosed with mesothelioma or on behalf of a loved one who died due to mesothelioma in Illinois.
Who Is Most at Risk of Mesothelioma in Illinois?
According to the National Library of Medicine, over 20 million people in the U.S. are currently at risk of developing malignant mesothelioma due to exposure to asbestos. Evidence suggests that those who are most at risk of mesothelioma are people who are exposed to asbestos on a regular basis, such as people who work with or around this carcinogen. It can also affect workers' family members due to secondary exposure, where asbestos fibers travel home with the worker on his or her clothing, hair or skin.
Certain industries, fields and jobs pose a higher risk of asbestos exposure than others in Illinois. They include:
Asbestos miners
Asbestos removal professionals
Auto mechanics
Building inspectors
Construction workers
Demolition or renovation workers
Electricians
Factory and manufacturing workers
Firefighters
HVAC workers
Insulation installers
Military servicemembers
Painters
School teachers and administrators
Shipyard employees
If an individual has a job with a high risk of asbestos exposure, his or her employer should take certain steps to protect workers. The Occupational Safety and Health Administration has specific rules in place to address the hazard of asbestos. Under these federal laws, employers should set asbestos exposure limits for employees, provide adequate PPE to protect workers from exposure and properly monitor work involving asbestos to prevent safety violations.
Common Asbestos Sites in Illinois 
People who face regular occupational exposure to asbestos are at risk of developing mesothelioma. However, these are not the only at-risk individuals. Overall evidence from the National Toxicology Program suggests that there is no safe level of asbestos exposure. Although it is less common, a single incident of asbestos exposure could be enough to result in a related illness, including mesothelioma.
Locations that have been known to contain asbestos in Illinois include:
Auto shops
Bank buildings
Buildings constructed before the mid-1970s
Chemical plants
Churches
Insulation companies
Manufacturing facilities
Military bases
Office buildings
Oil refineries
Power plants
Shipyards
Steel mills
Some sites in Illinois have higher levels of asbestos than others. The Johns Manville Corp. in Waukegan, for example, is a former manufacturing facility with a 150-acre asbestos waste disposal area that operated until 1998. Anyone who lived or worked near Johns-Manville during this time may have been exposed to asbestos.
Contact an Illinois Mesothelioma Lawyer Today
If one or more parties did not obey Illinois' asbestos laws or otherwise breached a duty of care owed to you, resulting in mesothelioma or another asbestos-related disease, you may be entitled to financial compensation. At Bailey & Glasser, LLP, our experienced mesothelioma attorneys can help you understand your rights and legal options as someone who has been diagnosed with mesothelioma.
Edwardsville Office:
O'Fallon Office:
Our Illinois asbestos attorneys know what you're going through and are passionate about helping clients pursue justice for this deadly illness. We will connect you to vital mesothelioma resources, information and legal representation. Begin with a case consultation at one of our Illinois law offices, located in Chicago, Edwardsville and O'Fallon. Call (877) 852-0342 or contact us online to speak to an attorney today.
Some of The Areas We Serve in Illinois
Berwyn | Calumet City | Chicago Heights | Crystal Lake | Barrington | Barrington Hills | County Club Hills | Batavia | Arlington Heights | Bensenville | Elmhurst | Cicero | Carol Stream | Lincolnwood | Chicago Ridge | Bridgeview | Algonquin | Buffalo Grove | Aurora | Carpentersville | Channahon | Elmwood Park | Westchester | Winnetka | Naperville | Bloomingdale | Westmont
Client Testimonial
"My husband Jim, he worked in a chemical plant… ended up with the flu and that turned into a diagnosis of cancer… My favorite part about working with Mickey was you knew he was confident in his job. When you have somebody that's confident, that makes you more confident. Mickey was really good for us, he worked hard for us. Mickey's a fighter, he doesn't give up."