If you or someone you know has recently received a mesothelioma diagnosis in Arizona, you may be entitled to financial compensation. While no amount of money can make up for this devastating diagnosis, a settlement or judgment award could help you and your family pay for necessary medical care, treatments and therapies. It can lend you greater peace of mind during this difficult time by providing better financial stability for your future. To discuss a potential claim with our Arizona mesothelioma lawyers, contact us.
Why Choose Bailey & Glasser, LLP?
Our team of asbestos and mesothelioma attorneys has in-depth experience with these types of cases. We understand Arizona's asbestos laws and how to pursue justice for our clients.
We can handle even the most complicated mesothelioma and asbestos claims. We are a full-service law firm that has acquired successful results for many past cases and clients.
You won't be just a case number at Bailey & Glasser, LLP. We will know your name, your story, the details of your case and your goals for the future.
Notable Case Results
Our legal team has adeptly handled over 3,000 cases and secured an impressive recovery of over $2 billion in settlements and verdicts exclusively in connection to asbestos-related cases. A selection of our accomplishments includes:
Attaining a substantial $50 million verdict on behalf of a mesothelioma victim, a steel mill worker whose exposure to asbestos led to his tragic passing.
Achieving settlements exceeding $20.8 million for workers who encountered asbestos in their workplaces, subsequently facing mesothelioma and its consequences.
Negotiating settlements surpassing $22 million for workers, a significant number of whom were smokers, whose asbestos exposure was linked to fatal lung cancer.
Securing settlements in excess of $1 million for workers who suffered from asbestosis, a non-malignant lung scarring condition, due to their exposure to asbestos.
Navigate This Page:
Obtaining Compensation for Mesothelioma in Arizona
Mesothelioma is a preventable illness. If you or a loved one was exposed to asbestos in the workplace, in a residence or residential building, or due to a product that contained asbestos, you may be entitled to compensation. The person or party who negligently failed to protect you from asbestos exposure may be financially responsible for your medical bills, pain and suffering, and other losses. Liable parties can include employers, businesses, corporations, product manufacturers, property owners and landlords.
A few sources of financial compensation are available to mesothelioma victims in Arizona. If you were exposed on the job, you may be eligible for workers' compensation.
This does not require you to prove that your employer was negligent to qualify for benefits. There are also asbestos trust funds. These are funds set up by bankrupt asbestos companies to compensate victims who were exposed to asbestos by their products. Finally, you could potentially file an individual mesothelioma lawsuit against an at-fault party in pursuit of a settlement or jury verdict.
When Do You Need an Arizona Mesothelioma Attorney?
Filing a claim for mesothelioma in Arizona is a complex legal process. You need to properly fill out and submit the required paperwork before the state's deadline. Then, to qualify for compensation, you must prove that one or more parties are at fault for your exposure to asbestos using clear and convincing evidence. An experienced mesothelioma attorney can help you with all of these steps while you undergo medical treatments and focus on your well-being.
Your lawyer will aggressively pursue the maximum financial compensation for a life-changing mesothelioma diagnosis on your behalf. You can trust your lawyer to take over settlement negotiations with an insurance company or pursue a fair payout by taking your case to trial. Your attorney will investigate your illness, collect evidence against the defendant(s), navigate Arizona's asbestos laws, hire experts to strengthen your case and take other steps to pursue the best possible case results.
What Is Mesothelioma?
Mesothelioma is an aggressive and terminal type of cancer that is caused by exposure to asbestos. Asbestos refers to a group of minerals that are known carcinogens, meaning they are cancerous to humans. Asbestos was widely used for manufacturing purposes in the United States for several decades. Unfortunately, exposure to asbestos can lead to fibers and particles getting lodged in the body's tissues, which can eventually cause cancerous tumors over the span of many years.
The symptoms associated with mesothelioma vary based on the type and location of the cancer. Common examples include difficulty breathing, persistent cough, unexplained weight loss, chest pain, and fatigue. An individual who develops mesothelioma may not notice these symptoms for many years after being exposed. The average latency period, or the amount of time between an individual's exposure to asbestos and a mesothelioma diagnosis, is typically 20-60+ years. This can make mesothelioma and other asbestos-related illnesses difficult to diagnose.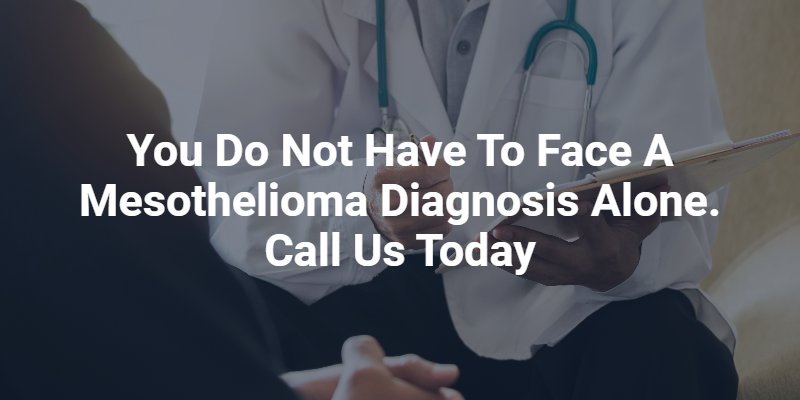 Mesothelioma Facts and Statistics in Arizona
According to data collected by the Centers for Disease Control and Prevention, from 2015 to 2019, 327 new cases of mesothelioma were diagnosed in Arizona. There were also 282 deaths due to mesothelioma within this period. This translates to 1 new mesothelioma diagnosis and 1 mesothelioma death per 100,000 people in Arizona. The majority of new cases were diagnosed in male patients (248).
Nationwide, an average of 3,128 new cases of malignant mesothelioma are diagnosed per year, according to the CDC. This is based on the finding that a total of 62,550 new cases of mesothelioma were diagnosed in the U.S. from 1999 to 2018. Out of all 50 states, Arizona ranked number 35 in terms of new mesothelioma cases diagnosed from 2015 to 2019.
Asbestos Exposure in Arizona – Who Is Most at Risk?
The National Cancer Institute states that mesothelioma and other asbestos-related illnesses can occur after even one encounter with asbestos. Overall evidence suggests that no level of asbestos exposure is safe. However, people who are exposed to it on a regular basis – such as workers in an occupation that involves asbestos-containing materials – are at an increased risk of illness.
The workers who are at the highest risk of asbestos exposure and mesothelioma in Arizona include:
Asbestos abatement professionals
Auto mechanics
Construction workers
Demolition and renovation teams
Drywall removers
Ductwork installers
Firefighters
Heating and air professionals
Members of the military
Oil refinery workers
Police officers
Shipyard workers
Workers in industrial plants
The family members and loved ones of these workers are also at risk of asbestos-related illnesses through secondhand exposure. This is when asbestos particles travel home with workers on their skin, hair and clothing. Despite organizations such as the Occupational Safety and Health Administration enforcing laws for the control of asbestos in work environments, many workers in Arizona are still exposed to this dangerous carcinogen on a daily basis.
Speak to an Intake Specialist in Arizona Today at (866) 871-7971
You do not have to face a mesothelioma diagnosis alone. Bailey & Glasser, LLP has a team of Arizona mesothelioma attorneys who can answer your questions and provide guidance throughout the legal process. During this difficult time, we will make sure that you and your family have everything that you need. To discuss a potential mesothelioma claim with one of our intake specialists in Arizona, contact us online or call (866) 871-7971. We look forward to hearing from you.
Client Testimonial
"My husband Jim, he worked in a chemical plant… ended up with the flu and that turned into a diagnosis of cancer… My favorite part about working with Mickey was you knew he was confident in his job. When you have somebody that's confident, that makes you more confident. Mickey was really good for us, he worked hard for us. Mickey's a fighter, he doesn't give up."