Textile mill workers suffer higher rates of asbestos-related illnesses, including mesothelioma, than many others due to the nature of their jobs. If you or a loved one has been diagnosed with a disease caused by exposure to asbestos as a textile mill worker, you may be entitled to financial compensation for your illness. The attorneys at Bailey & Glasser, LLP can connect you to vital resources and help you with the legal process. Contact us today for a free case consultation.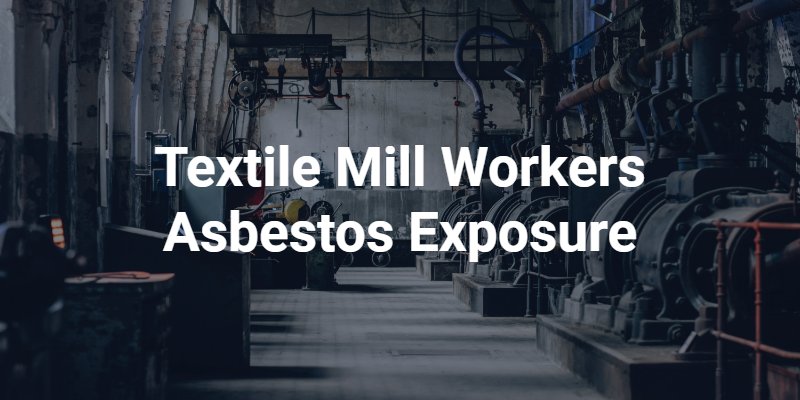 What Is Asbestos? Why Is it Dangerous?
Asbestos refers to a group of six silicate minerals that, when inhaled or ingested, can cause cancer in humans. The International Agency for Research on Cancer confirmed asbestos as a carcinogenic substance in a report released in 1987. Up until that time, however, asbestos was widely used in the production of many consumer goods and materials. This includes textile products, such as heat-resistant garments, blankets and cloth. The workers who produced these textiles are at a high risk of developing health problems related to asbestos exposure.
Asbestos causes illnesses by becoming lodged in the tissues of the body, such as the mesothelium, or the protective membrane that surrounds many organs. Over a period of time (the average latency period for asbestos diseases is 20-60+ years), asbestos particles and fibers lodged in the body can cause enough irritation and scarring to result in cancerous tumors. Asbestos can also cause other medical conditions, such as asbestosis and lung cancer. Cancer of the mesothelium is known as mesothelioma. It is a rare and aggressive form of cancer with no known cure.
Asbestos Exposure at Textile Mills
Textile mill workers were more at risk of asbestos exposure than many other types of workers before asbestos became regulated due to the processes used by this industry. Textile workers directly handled asbestos fibers and asbestos cloth, as well as operated machines that relied on asbestos products, such as gaskets and insulation. This was all before regulations regarding asbestos were implemented in the United States, meaning textile mill workers typically had little to no protection from asbestos.
The process of converting asbestos into asbestos fabric started with moving raw asbestos materials from storage areas located in the textile mill, then mixing it with cotton. This mixture was then piled, or placed in alternating layers, and fed to a picker machine. The next steps were arranging cotton and asbestos fibers in parallel rows and spinning them into yarn. This material was then knitted or woven to create end products. There were many opportunities during these processes for textile mill workers to be exposed to asbestos that became airborne.
Today's Textile Mill Workers Are Still at Risk
The National Cancer Institute states that no amount of asbestos is "safe" to be around, but evidence suggests that people who become ill from asbestos are often those who are exposed to it on a regular basis, such as in a job that puts them in substantial environmental contact with asbestos. This includes textile mill workers, even today. While asbestos exposure risks were more significant prior to the passing of federal asbestos regulations, today's textile mill workers could still be at risk due to asbestos products in their place of employment.
Since it can take many years for asbestos to cause health problems, workers who were exposed in a textile mill a long time ago could be diagnosed now. In addition, many textile mills that are still in operation contain asbestos in their building materials, such as ceiling tiles and vinyl flooring. This could put textile mill workers at risk of dangerous levels of asbestos exposure on the job, especially during renovation or repair projects.
Legal Options for Textile Mill Workers With Asbestos-Related Illnesses
Textile mill workers who were exposed to asbestos on the job may have the right to file lawsuits after receiving a related diagnosis. A mesothelioma lawsuit, for example, could pay a worker for an illness caused by occupational asbestos exposure in a textile mill. A lawsuit claims that the victim's illness would not have occurred were it not for the negligence of the employer. Negligence is the failure to use proper care, such as a textile mill furnishing its workers with personal protective equipment.
A successful settlement or verdict could pay financial compensation for the following types of losses:
Past and future medical expenses
Lost wages
Lost capacity to earn
Physical pain and suffering
Emotional distress
Mental anguish
Loss of consortium
Wrongful death damages
Attorney's fees and out-of-pocket costs
Punitive damages, in some cases
A workers' compensation claim is also a possibility for some textile mill workers. This type of insurance claim offers financial benefits without requiring proof of employer negligence. If the textile mill that exposed you to asbestos has declared bankruptcy, hope is still available. Many corporations have set up asbestos trust funds to pay victims of asbestos exposure after declaring bankruptcy. You can discuss your legal options in more detail when you contact an attorney at Bailey & Glasser, LLP.
How Can an Asbestos Attorney Help?
Hiring an asbestos attorney puts you in the best possible position during a legal claim or lawsuit. Your attorney will have legal knowledge, case experience and connections to experts who can testify on your behalf. An attorney will understand the history of asbestos use in textile mills and how to prove the time and place of your asbestos exposure. A law firm will also have the resources to investigate your claim and discover all available sources of evidence. You can trust an attorney to take care of the legal process for you while you focus on your medical treatments and future.
Diagnosed With Mesothelioma as a Textile Mill Worker? Schedule a Free Case Consultation
Working in a textile mill could expose you to asbestos, especially if you were employed by a textile mill between 1940-1980, when asbestos cloth production was at its peak. If you or a loved one was a textile production worker, weaver, inspector, sorter, warehouse worker, dyer, loom operator or worked in any other capacity at a textile mill, you may be eligible for compensation if you have been diagnosed with mesothelioma.
Contact the team of asbestos attorneys at Bailey & Glasser, LLP to discuss a potential lawsuit. We offer free initial case consultations, where you can tell your story and have your legal questions answered. Call our law firm at (866) 871-7971 to learn more.