One of the greatest injustices in American history is our country's failure to protect our veterans from harmful exposure to toxic substances during the 20th century. Thousands of American veterans honorably served the United States and were discharged in full health, only to find out decades later that exposure to asbestos during their military service caused them to develop lung cancer.
Today, nearly one in three new mesothelioma diagnoses in the United States is a veteran of our Armed Forces – totaling more than 1,000 new veterans with mesothelioma every year. Mesothelioma is a devastating type of cancer that is often aggressive and difficult to treat.
While no amount of money can truly make up for a mesothelioma diagnosis, the federal government's Department of Veterans Affairs has established multiple programs and benefits that eligible veterans can use to receive funding. One of these programs is the VA's pension program, which provides monthly payments to low-income disabled veterans. A mesothelioma lawyer with experience working with veterans and their families can assist claimants in assessing their eligibility and accessing funding where possible.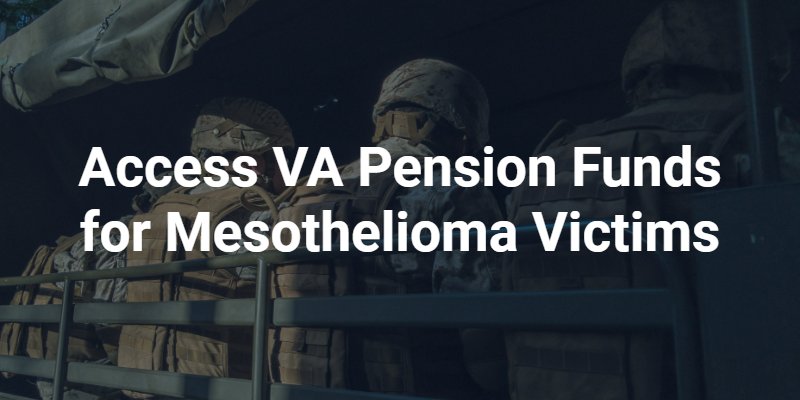 VA Pension Payments for Mesothelioma Veterans
The VA pension program provides monthly cash payments to eligible veterans who are disabled and low-income. The program exists to ensure that no American veteran experiences a true financial hardship due to a service-related disability and associated costs and expenses. Veterans who are diagnosed with mesothelioma and other asbestos-related conditions are eligible to receive pension benefits if they are also low-income and if their medical condition can be connected to an asbestos exposure during military service.
Eligible Medical Conditions for VA Pension Benefits
While mesothelioma is the most common asbestos-related medical condition, veterans can also qualify for benefits after being diagnosed with any of the following conditions related to the exposure of asbestos:
Cancers linked to asbestos exposure, including lung cancer, throat cancer, colorectal cancer, ovarian cancer, and stomach cancer
Chronic obstructive pulmonary disease (COPD)
Financial Eligibility Requirements for VA Pension Benefits
VA pension benefits also require that the veteran receiving benefits is of a low-income status. More specifically, the veteran's annual income cannot exceed a limit set by Congress, and the veteran cannot have a total net worth that exceeds $150,000. Specific amounts of money disbursed as part of a VA pension also vary depending on the veteran's needs. Veterans of the lowest income status receive more funds, while eligible veterans with more income receive fewer funds.
Military Service Requirements for VA Pension Benefits
In addition to qualifying health conditions and income eligibility requirements, VA pension benefits also require that veterans serve in the military for appropriate amounts of time and during a wartime period. More specifically, a veteran must meet one of the following categories:
Served on active duty before September 8, 1980, and served 90 days or more on active duty with at least one day being during wartime
Served on active duty after September 7, 1980, and served at least two years or the full period for which the veteran was called, with at least one day being during wartime
Served as an office on active duty beginning after October 16, 1981, without having served on active duty previously for at least two years
The "wartime" requirement can be met by service in any armed conflict, including World War II, the Korean War, the Vietnam War, and the Gulf War. Each of these armed conflicts have specific date ranges that Congress has defined as the start and end dates for purposes of VA benefits eligibility.
All in all, these service time requirements can be difficult to calculate, but an experienced mesothelioma attorney can assist veterans and their families in assessing eligibility for VA pension funds.
How to Access VA Pension Funds
While filing a claim for VA pension funds can be a lengthy process, an attorney can assist you in putting together your application. To make a strong application, a veteran with mesothelioma should follow these steps:
Consult with a mesothelioma lawyer.
Seeking assistance from a mesothelioma attorney with experience helping veterans is the first step to putting together a strong application for VA pension benefits. An attorney can not only assist you with filling out your application, but also with compiling evidence and documentation to support it, and filing an appeal of an adverse decision if necessary. Because of the amount of time that it can take the VA to process pension benefits applications, you should work to ensure that you maximize your chances of success on the first application you file. Consulting with an attorney also affords you an advocate and counselor for the entire process.
Determine whether you are eligible for pension benefits.
Next, your attorney will work with you to determine whether you meet the VA's requirements for receiving pension benefits. In order to be eligible, veterans must be low-income, have a qualifying illness (including mesothelioma), and otherwise meet certain service time requirements.
Making sense of these requirements can be a complicated endeavor that may require examining your financial situation, doing research into your military service, and gathering extensive medical documentation. An attorney can assist you in requesting all of these documents to determine whether you are eligible to file for VA pension benefits.
Otherwise, if you turn out to not be eligible for VA pension benefits, an attorney can assist you in determining if you may be eligible to receive benefits from other VA programs with less stringent eligibility requirements.
Submit your application and await a decision.
After gathering documentation to prove your eligibility for VA pension benefits, you and your attorney will work together to put together your application. Generally, the application includes standard information: your identifying information, your military history, your financial information, and medical documentation about your disabilities.
Thankfully, a claim for pension benefits begins on the day it is filed, meaning that if your application is approved, you will receive funds in an amount backdated to the date of your application.
Contact a VA Pension Benefits Attorney Today
If you are eligible for VA pension benefits, you should not wait to file a claim – benefits to which you are legally entitled continue to go unused if you do not file to receive them. Our team of attorneys and legal professionals is ready to assist you and your family today. Contact us to set up a free consultation on your prospective VA pension benefits application.