The Federal-Mogul Corporation is one of the oldest product manufacturers in the automobile industry, with operations dating back to 1899. In 2001, Federal-Mogul was forced to file for bankruptcy following years of litigation regarding asbestos-containing products. As part of its bankruptcy restructuring, Federal-Mogul created an asbestos trust.
To find out if you are eligible to file a claim with this trust, contact Bailey & Glasser, LLP for a free consultation. Our asbestos, lung disease and mesothelioma attorneys have years of experience helping patients and their families seek justice and fair financial compensation for exposure to asbestos.
What Are the Health Risks Associated With Asbestos Exposure?
Asbestos is a group of minerals responsible for causing serious illnesses in people who are exposed to it, including lung cancer and mesothelioma. Mesothelioma is a rare and aggressive form of cancer that appears in the mesothelium, or the tissue that surrounds many of the internal organs, after exposure to asbestos.
Currently, the life expectancy for someone who is diagnosed with mesothelioma is an average of 12 to 21 months with treatment, according to the National Library of Medicine. Asbestos exposure can also cause cancer directly in the lung rather than in the membrane that surrounds the lung (known as the pleura).
What Asbestos Products Is the Federal-Mogul Corporation Responsible for Manufacturing?
Federal-Mogul originally manufactured metal bearings and bushings, but soon expanded its business into a range of automotive and construction materials. Over the years, it acquired other companies, including Turner & Newall and Fel-Pro – two companies known for using asbestos in most of their products. Turner & Newall was Europe's largest manufacturer of asbestos-containing construction materials and automotive parts.
Products, equipment and supplies under the name of Federal-Mogul that contained asbestos include:
Automotive brakes
Clutch components
Bearings
Mill supplies
Flexitallic spiral gaskets
Vellumoid Velbestos gaskets
Limpet spray
Trafford tile
Cement sheets
Asbestos was used in these products due to its high resistance to heat. Implementing it in high-friction auto parts reduced the risk of these items overheating and failing. In construction materials, asbestos was primarily used for insulation purposes, such as in concrete, drywall and attic insulation.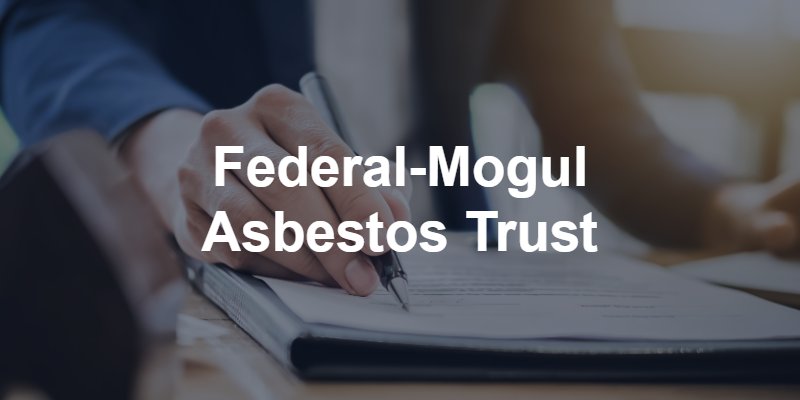 Who Is Most at Risk of Asbestos Exposure From Federal-Mogul?
According to the National Cancer Institute, studies show that no amount of exposure to an asbestos-containing product is safe. However, an individual's risk of developing mesothelioma or other illnesses associated with asbestos increases with the amount of exposure. For this reason, people who were around Federal-Mogul's products daily, such as workers, are most at risk of related illnesses.
Examples include:
Auto factory workers
Automotive mechanics
Boiler operators
Construction workers
Electricians
Factory and power plant workers
Industrial workers
Manufacturers of Federal-Mogul products
Oil refinery workers
Railroad workers
Refractory workers
Shipyard workers
In addition, these workers may have put their family members at risk of secondary asbestos exposure. This is when asbestos particles and fibers are brought home on a worker's clothing, shoes or hair, potentially exposing others in the vicinity to asbestos. This risk can be avoided by a worker showering and changing clothes before returning home.
What Is the Federal-Mogul Asbestos Trust?
The acquisition of Turner & Newall and Fel-Pro is what pushed Federal-Mogul Corporation into bankruptcy by 2001. By 2007, Federal-Mogul emerged from bankruptcy with four newly formed asbestos trust funds to compensate victims who were exposed to asbestos by their products. These trusts were established with a total of $635 million in funds and organized by company: Federal-Mogul, Turner & Newall, Fel-Pro, and Vellumoid.
Today, victims with mesothelioma and other health problems from being exposed to asbestos in products created or distributed by Federal-Mogul can seek compensation from the Federal-Mogul Asbestos Personal Injury Trust. The current payment percentage for this trust (and the Turner & Newall subfund) is 5.9 percent, meaning qualified claimants will receive 5.9 percent of the gross settlement value. The payment percentage for the Fel-Pro subfund is currently 6.9 percent.
How to File a Claim With the Federal-Mogul Asbestos Trust Fund
If you or a loved one has been diagnosed with an asbestos-related illness that traces back to a product sold by the Federal-Mogul Corporation or one of its subsidiaries, you may be eligible for compensation through this asbestos trust. The first step in filing a claim is to contact an attorney. An asbestos attorney can review your case and let you know if you qualify for this type of trust fund claim.
If so, your lawyer can help you take the steps required to file:
Collect information – gather all documentation connected to your case, including medical records and asbestos exposure evidence.
Choose your claim option – Expedited or Individual Review. The Expedited is a shorter process, while the Individual is more detailed. Both have pros and cons.
File your completed Claim Form – submit the required paperwork with all supporting documentation requested to Federal-Mogul Asbestos Personal Injury Trust, P.O. Box 8401, Wilmington, DE 19899-8401. You can also file online.
You can learn more about the Federal-Mogul trust fund claims process in its Distribution Procedures document. In general, you will need documentation establishing that you have mesothelioma or received another asbestos-related diagnosis, you have a history of asbestos exposure, and where and when your exposure occurred.
When to Contact an Asbestos Attorney
An attorney can help you gather supporting documentation and pursue fair financial compensation through the Federal-Mogul trust fund, as well as review any other legal options that may be available to you. For example, you may qualify for compensation through a mesothelioma lawsuit.
A product liability claim against Federal-Mogul or one of its other entities, for instance, could result in greater compensation than a trust fund claim alone, such as damages for pain and suffering. Other possibilities may include a workers' compensation claim as an employee of Federal-Mogul or a veterans claim if you were exposed to one of their products while in the military.
Bailey & Glasser, LLP Offers Legal Representation for Federal-Mogul Trust Fund Claims
To find out if you are eligible for a claim with the Federal-Mogul asbestos trust fund, contact Bailey & Glasser, LLP to request a free case consultation. Our attorneys will take the time to listen to your story and carefully review your case to determine whether you qualify. If we decide to accept you as a client, we will guide you through each step of the claims process. We can use our many years of experience in this practice area to build the strongest possible claim on your behalf. Learn more by calling (866) 871-7971.